Sai Sampoorna Darshan (Part 3)
Sai Sampoorna Darshan (Part 2 )
Sai Baba Bolo – Sai Bhajan
Miracles of Shirdi Sai Baba
Sai Baba of Shirdi is an epitome of spiritual perfection and has been a major guiding source for the mankind leading to salvation. As a spiritual guru and savior "Shri Saibaba" was no ordinary fakir but an avatar of the highest order. This was evident through his miracles and sayings that exhibited his purpose and intention for which he had come. Saibaba's Leela's (miracles) were plenty and varied; here are a few of the miracles of Shirdi Saibaba, for his devotees and those interested in his philosophies.
Sai Sampoorna Darshan (Part 1)
Sai Darshan brings to you Sai Sampoorna Darshan  (Part 1 )
Jai Sai Ram!!
Shirdi Sai Baba books
There are many books and publications available now on Shri Sai Baba of Shirdi. His Miracles, His Teachings are a source of great learning. If you would like to share any such publication / book with us, do let us know.
Here are some we would like to share:
Baba's Teachings
'Shraddha' is a Sanskrit word, which roughly means faith with love and reverence. Such faith or trust is generated out of conviction, which may not be the result of any rational belief or intellectual wisdom, but a spiritual inspiration. According to Sai Baba of Shirdi, steadfast love in God is the gateway to eternity. Baba's teaching, both direct and indirect explicate the significance of 'Shraddha'. Baba reiterates the spiritual guidance of Shri Krishna to Arjun – "Whosoever offer to Me with love or devotion, a leaf, a flower, a fruit or water, that offering of pure love is readily accepted by Me".
Sai Bhajan
Shirdi Wale Sai Baba – Mohammad Rafi
An evergreen Sai Bhajan in the beautiful voice of Mohammad Rafi…
Sai Baba Wallpapers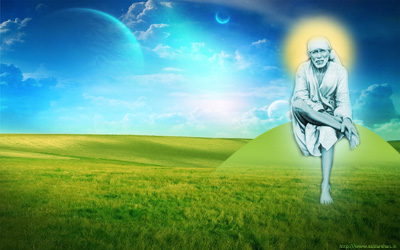 Download Wall Paper according to your screen resolution:
About Shirdi

Shirdi is located approximately 296 Kilometers from Mumbai (Bombay) City in India. The nearest railway station is Kopargaon 15 kilometers on Manmad-Daund section of Central Railways.
Shirdi town is situated in Rahata Tahasil in Ahmednagar District of Maharashtra State (India). It is located at 19o45′ North Latitude and 74o25′ East Longitude.
It falls on Ahmednagar-Manmad State Highway No.10 at 83 Km. from Ahmednagar, and 15 Km. from Kopargaon.
It (the Ahmednagar -Manmad road) was a very busy route in the old times. It is located at 185 Km. to the East from Western Seashore line.
Shirdi is not on railway map. To reach 'Shirdi' via railway one has to reach 'Manmad' station which is 83 Km. from 'Shirdi Village' or 'Nashik' city which is 119 Km. from 'Shirdi'. From there one may reach 'Shirdi Village' by taking bus or taxi.